---
TOGIR TOUR 2001
The Other Great Iowa Ride
---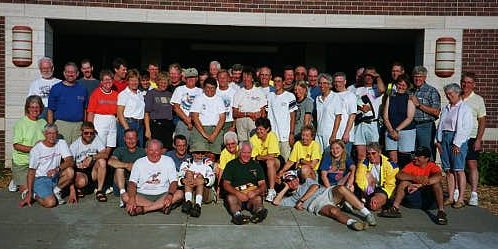 What Is TOGIR?
No, it's not RAGBRAI!
TOGIR (rhymes with ogre) is the The Other Great Iowa Ride. A week long tour of eastern Iowa that goes from college to college where the riders can camp or sleep in the dorms. Morning and evening meals are provided in the college cafeterias. TOGIR was started by the infamous Carter LeBeau of Davenport, an avid cyclist who has the distinction of being the only person who has ridden on every RAGBRAI.
Perhaps Chuck Oestreich of the Quad City Times summed it up best in his 09/30/1998 article: "TOGIR, on the other hand, is Iowa without the crowds and the fraternity party atmosphere. Itís perhaps more representative of the real flavor of Iowa: small towns seeming to be asleep in the sun; miles of undulating roads through corn and beans and woods; down-to-earth people beaming with rural pride; days of sweat, and evenings at the town square quietly absorbing the intangibles of the good life."
TOGIR is now owned and operated by Dave Lefever. You can write Lefever for information at TOGIR Tours, 1735 Piccadilly Place, Davenport, IA. 52807. Phone (319) 344-1379. You can e-mail him at mailto:bike@togir.com or visit their website at TOGIR.com.

Travel To TOGIR - Saturday 06/16/2001
Travel day from Webster Groves MO to Oelwein IA.
After breakfast with the family I left for Iowa about 8:23am. I decided to use the eastern route suggested by MapBlast:
I-44 east to I-55
I-55 north to I-155
I-155 north to I-74
I-74 west to I-80
I-80 west to I-380
I-380 north to Highway 150
Highway 150 north to Oelwein
This route was mostly Interstate highways but did take me out of my way to the east a way. The trip to Oelwein was uneventful and I arrived about 3:09pm. I decided to unload my bike from the back of the truck only to discover that I had left my bike lock keys at home. Joe arrived about 4:45pm and we visited the nearby K-Mart to purchase a $10 hacksaw. 10 minutes of cutting freed the bike and ruined my 2 good Kryptonite locks. Sigh. For dinner we ate pasta at the downtown Italian resturant. Lodging was at the nice Super 8 Motel on Highway 150 near the south edge of town.

Day 1 - Sunday 06/17/2001
Oelwin to Cedar Rapids IA.
Distance: 71.71 miles

We meet at the Oelwein Middle School to get a few last minute instructions from Dave Lefever, our tour director. Everyone was anxious to get started - we left about 8:10am. We made pretty good time over the first 25 miles but eventually a headwind made it presence felt. We stopped in Jesup for a bathroom break. During this section we encountered 4 Amish buggies apparently on their way to church. We noticed that the concrete pavement was worn from the wagon wheels about a foot from the outer edge. Somewhere my name tag blew off my bike on the first day. I'd like to think it was because I was riding rather fast but alas we all know that's not true. We rode on to Brandon and had lunch at the Home Style Cafe. Another mile down the rode we jumped on the Cedar Valley Nature Trail - a rails-to-trails project. The trail is crushed, packed limestone that runs for more than 50 miles. Many stretches of the trail are tree lined on the both sides. It was a little over grown in some areas but was a very nice ride that provided a nice break from the wind. We stopped along the trail so Joe could call his Dad from his cell phone and wish him a haapy Father's Day. Trail users are suppose to pay a $2 fee but we couldn't figure out where to find the form and where to pay. Iowa has lots of corn. The last 4 miles through Cedar Rapids (Center Point Rd) seemed to take forever.

Lodging and dining was at Coe College (est. 1851). We stayed at Voorhees Hall which is a very nice dorm. After dinner we visited the Eastside Maidrite for a couple beers. The place was empty save for one barfly who seemed to have a comment about everything. He was the first person I ever met that bragged that he preferred malt liqour over beer and ale. Another man walked in and was greeted by the barfly. The second man ordered a pitcher of margaritias and a straw. I kid you not. John E. and the other John E. showed up a little later.

Day 1 noted the start of four recurring themes on this bike tour: 1) unfavorable wind 2) quaffing a brew or two after the days ride 3) lack of privacy on the open road (see below) 4) fields and fields of corn.

Some people drank lots of water from their 100 ounce hydration packs so they had to stop frequently to lighten their load, so to speak. It never failed that a vehicle would drive up at the most inopportune time. On the first day one such individual stopped and positioned himself behind a line of trees with no one in sight. Out of nowwhere comes a red full size pickup that slows down. Oh they are being cautious around the bikers. Nah, they are going to slow. Oh they are going to stop and talk. Nah, they turn into the field and drive right by the biker who was busy gathering himself. And so it would go for the next five days.

Day 2 - Monday 06/18/2001
Cedar Rapids to Grinnell IA.
Distance: 78.76 miles

We all lined up at the edge of campus for our police escort out of Cedar Rapids. Suddenly a loud pop was heard. It did sound like a rifle shot but turned out to be Wayne B's front tire. Heck of a way to start the day. Two of Cedar Rapids finest escorted us out of town, with the one officer leading the way for the first 10 miles of our ride. We thought we were going to have squad car leading the way but it was parked at the local convience store. Donuts perhaps?

About the 18 mile mark it began to rain. We missed the turn to the main part of the Amana colonies but didn't realize it until we hit West Amana. With the poor weather we decided to visit the nearby gift shop and checkout Iowa's largest wooden rocking chair. I bought some wooden Christmas ornaments.

This was the toughest day of the tour - we battled the wind all day long. When it wasn't a relentless headwind it was a gusting cross wind the blew us off the highway several times. Best part of the day was when we turned to the north for the final five miles and we sailed with the wind at our backs. Once in town we found the college but couldn't find the TOGIR signs - we circled the campus twice before locating our dorm. About half of the riders used the SAG service on this very windy day. We saw lots and lots of corn on this day.

Lodging and dining was at Grinnell College (est. 1846). The dorm had no air conditioning and it was a bit warm that evening. Six of this year's TOGIR riders were from Grinnell. After dinner we visited the Down Under Pub for a pitcher of beer. The new TV show "Fear Factor" was on and we watched 2 guys lie in a clear plexiglass coffin-like box and have worms dumped all over them. While sitting there relaxing, I got a cramp in my right thigh muscle. That night we checked the weather and learned that the wind was shifting and would be out of the northwest the next day - in our faces again.

Each evening, at the group meeting, Judie G. and Jean R. entertained the troops with a song and would ask for items found on the day's ride. They would also solicit humorous stories from the tour participants. This was a fun part of the evening meetings, due in large part to their efforts.

Day 3 - Tuesday 06/19/2001
Grinnell to Cedar Falls IA.
Distance: 79.21 miles

A group of us was ready to start the days ride when it began to rain. We waited awhile and the rain stopped. Our days journey was mostly north but the wind had shifted and was blowing out of the northwest - in our face again. It was on this this ride that an unhappy red-winged blackbird harrased several riders. Rumor has it that the bird tried to lift off one riders helmet. A group of us pace lined to lessen the effects of the wind. We lunched at the bowling alley in Gladbrook. Did you know that Iowa ranks first in corn production in the US? It make one wonder why the one and only Corn Palace is located in South Dakota. Another of life's mysteries.

My primary shifter cable started to fray and shifting became erractic. Once safely in Cedar Falls, Dave gave us a lift to the BikeTech bike shop for repairs. The repairman was knowledgeable and provided fast, effecient service. He also took the opportunity to chastise me for having a dry chain and Suntour components on my bike. The fact that we had ridden thru rain the past couple days seemed inconsequential to him. Apparently Suntour is no longer being imported to the United States. He also implied that parallelagram of my rear derailer was out of whack. I guess that's understandable since I took a hard fall a couple years ago and bike does have 10,000+ miles on it. While working on my bike he took the liberty of spraying half a can of liquid lubricant all over my chain, gears, rim and tire. The lubricant flew all over the bike frame, spokes and water bottles - what a mess.

Lodging and dining was at University of Northern Iowa (est. 1876). We stayed in Dancer Hall. I think this dorm qualifies as the lousiest of the trip. Loud, noisy, poor bathrooms - we listened to metal doors slam shut all evening long. Joe commented that the architect of that building should be forced to live there for a period of time - I agree. Fours years of that building would be cruel and unusual punishment. The dorm had no air conditioning. For the evening meal the cafeteria had build your own pizza. I knew my pizza didn't look quite right after being cooked and realized that I had not put any cheese on it. I really can't recommend cheese-less pizza.

After the team meeting Joe announced that we were going to a pub and invited others to join us. Thus began his stint as the evening social chairman of the trip. A nice group of people met in the lobby and we walked north of the campus a couple blocks to Pour Richards Pub and had a few pitchers. Apparently Richard was so poor that he couldn't afford air conditioning and the pub was rather warm - but at least the beer was cold.

That night some drunks harassed the tent campers and tore a whole in one person's tent. Jerks.

UNI is best known as the alma mater of Kurt Warner, the record setting, Superbowl MVP quarterback of the Saint Louis RAMS.

Day 4 - Wednesday 06/20/2001
Cedar Falls to Waverly IA.
Distance: 70.58 miles

Wednesday was the second nicest day of the tour: no rain and mild wind. You had your choice of doing anywhere from 29 to 84 miles on this day. We opted to go to Nashua to see the Little Brown Church in the Vale. It's a nice church and has a interesting history. Behind the church you will find a building with bathrooms and the men's side has some of the most unique urinals I have ever seen. Leaving Nashua southbound toward Waverly we rode into a headwind the last 20 miles. Have I mentioned that we saw lots of corn on this tour? That section of the route included some nasty asphalt (very bumpy) pavement. I'm sure it was worse for those riding road bikes.

Lodging and dining was at Wartburg College (est. 1852). We stayed in Founders Hall. They revenoted this building a few years ago but it has settled some over the years - the second floor hallway is noticably out of plumb.

At the team meeting Pete G. handed out the lyrics to a song he had composed entitled: Saga of a TOGIR Bike Ride. We all sang it and had a good time with his most apropos lyrics. After the team meeting several of us walked over to The Other Place and enjoyed some conversation and several pitchers of beer.

Day 5 - Thursday 06/21/2001
Waverly to Decorah IA.
Distance: 81.47 miles

Thursday was longest mileage of the trip. Lots and lots of rolling hills. We stopped in Fort Atkinson for lunch and were directed to Dhad's Resturant. Food and service was very good and inexpensive. After lunch we continued north and stopped in Spillville at see the Bily Clocks Museum and Dvorak Exhibit . The clocks are amazing - be sure to take the tour.

After our museum tour we continued north and got a few miles out of town when a storm hit complete with rain, thunder and lightning. Joe is really into weather tracking and has been known to chase a storm or two in his spare time so we followed his suggestion to take cover. We hid under the overhange of a farm house and waited for the storm to blow over. We all wanted to push on but the lightning was a big concern. I learned recently that lightning can strike up to 10 miles away from a thunderstorm! I had forgotten my jacket so Joe lent me his yellow plastic rain poncho. After 30 or 40 minutes things had calmed down enough for us to get back on our bikes. It rained on us off and on the rest of the way to Decorah. Fifth day of corn fields, oh how my heart aches for a field of wheat. Nothing like sailing down a long hill, in the rain, yellow poncho flapping in the wind, crouched over in a semi-areodynamic posture and having the water off your own front tire spray you in the face. Fenders anyone? Wayne B., Joe and I had nice cold showers before we ever got to the dorm.

Lodging and dining was at Luther College (est. 1861). We stayed in Farwell Hall. The cafeteria at Luther College received high marks from me since they had not only 2 flavors of soft serve ice creme but they also had large waffle cones!

The tour meeting was long that evening as many people had funny stories to tell and songs to sing. Also several awards we handed out:
Best smile - Tall Paul (C.) from St. Paul
Most enthusiastic - Andrea B.
Best song - Pete G.
Road treasure - Marti with her 3 year old Road Atlas
Biggest whiner - Chuck F. (no body likes me)
Best dressed (matching outfits almost every day) - Dan and Becky H. [rumor has it they have "57 varieties" of biking outfits]
Sweep award - Debbie L.
Best story - Lyle R. (about a tippy toilet at the Home Style Cafe)
Most miles to TOGIR - George
Most flats - Bob and Myra R.
B. S. award - John E.
Afterward Dave gave us a ride to the T-Bock bar in downtown Decorah. Somehow 20 people managed to cram into Dave's van for the ride downtown - that must be some sort of TOGIR Tour record. A terminally cute waitress kept our table well stocked with pitchers of 4 different types of beer. Around 10ish Dave returned and joined us for the last round before giving us a lift back to the college. DMB

Day 6 - Friday 06/22/2001
Decorah to Oelwein IA.
Distance: 53.75 miles

Believe it or not we actually had a tailwind on this day. We would have to find something else to complain about. Oh yeah, those big hills leaving Decorah! It was a slow climb up the hills but a fun romp down the other side where we did 38+ mph. The first hour featured 3 or 4 decent hills, a couple of which were "groaners" as Dave described them. After the hills the land became rolling and then flat. This part of Iowa is very pretty with the rolling hills, green fields and colorful wildflowers. Many farms had flower gardens that added a pretty splash of color to the landscape. Corn, glorious corn! Ok, ok, so it wasn't all corn - Iowa ranks first in production of soy beans also. And yes my friends Iowa also ranks first in pork production and we did smell a few feedlots along the way.

We stopped in Calmar for a bathroom break at the local Quik Star convience store. It was here that a man asked what ride we were on and when I replied "TOGIR" he knew of it and asked if we were staying on college campuses. Finally someone who didn't assume we were on RAGBRAI and had actually heard of TOGIR! RAGBRAI is something of a state-wide treasure in Iowa. Nearly everywhere we went people asked us if we were on RAGBRAI. Some of the people were clearly releived to hear that we were a small band of riders and that RAGBRAI was not in their town.

Many of us stopped at the local convience store in Hawkeye for food. This was the best cycling day of the trip and we averaged our best speed of the week. We finished at the Oelwein Middle School about 11:30am. After a hot shower, a few pictures and goodbye's I headed back to Saint Louis about 12:30pm.

Lodging and dining was at home! Yeah!

Travel From TOGIR - Friday 06/22/2001
Travel day from Oelwein IA to Webster Groves MO.
I decided to travel home via the "Avenue of the Saints" rather than the eastern Interstate path I had followed on my way to Iowa. The Avenue of the Saints gets its name from the fact it runs between the cities of Saint Paul MN and Saint Louis MO.
Highway 150 south to I-380
I-380 south to Highway 218
Highway 218 south to Highway 394
cross the toll bridge
Highway 61 south ro I-64
I-64 east to Lindbergh
For more info on the Avenue of the Saints see:
iowahwypix.tripod.com/saints/photo1.html
http://www.aaroads.com/high-priority/corr02.html

| Day | Location | Distance | Time | Avg_Spd | Max_Spd | Total |
| --- | --- | --- | --- | --- | --- | --- |
| 1 | Oelwein to Cedar Rapids | 71.71 | 5:26:22 | 13.18 | 28.47 | 71.71 |
| 2 | Cedar Rapids to Grinnell | 78.76 | 6:37:38 | 11.88 | 36.41 | 150.47 |
| 3 | Grinnell to Cedar Falls | 79.21 | 6:14:31 | 12.690 | 31.87 | 229.68 |
| 4 | Cedar Falls to Waverly | 70.58 | 5:11:34 | 13.592 | 27.60 | 302.55 |
| 5 | Waverly to Decorah | 81.47 | 5:58:50 | 13.622 | 35.33 | 384.03 |
| 6 | Decorah to Oelwein | 53.75 | 3:23:37 | 15.839 | 38.98 | 437.82 |
| Totals | - | 437.76 | 33:04:54 | - | - | 437.82 |
Links:
Offical TOGIR Website
Iowa Tourism
Tour Iowa
Travel Iowa

National Bicycle Tour Directors Association - comphrehensive list of multi-day bicycle tours in the US, Canada, Mexico and France.
Rob's Bicycle Page - cycling info for the greater Saint Louis area.

Participants:
This years TOGIR Tour consisted of 55 riders from 11 different states. Big, small, young, old, middle age. Serious riders, casual riders. This tour had a very nice cross section of people. A young pair of girls entertained themselves listening to a boombox on the back of one girls bike. They often rode barefoot or in flip flops. Others wore matching cycling clothes each day and rode $2,000 bikes. A retired couple had already done several week tours earlier this year.
Recommendation:
This website presents my jaded opinion about the TOGIR 2001 Tour. I think that other tour participants would generally agree with my thoughts. I thoroughly enjoyed myself on this tour and would highly recommend it to anyone. It is rated an intermediate tour I and think that is a fair assessment. Dave and Adele were wonderful hosts who worked very hard to keep their clients happy. I enjoyed the route, was very pleased with the company (fellow bikers) and liked staying on the college campuses. Joe and I grew up in a small college town, Winfield Kansas, so we were pleased to see so many small communities continuing to thrive. I found the Iowa people to be be friendly and down to earth, very typical of the great midwest. My only major complaint about the tour would be the headwind which followed us around for the first 5 days.
Acknowledgments:
The author of this website thanks the following individuals who contributed details, facts, tidbits and stories for this wegbpage: Joe Dietrick, Pete Getz, Judie G.

Rob Anderson and Joe Dietrick smile after completing the 6 day and 437 mile TOGIR 2001 Ride.
---
---

Contact the
Copyright © 2001-2003 Robert P. Anderson